People are entrepreneurial in the unlikeliest of situations. Even under COVID-19 lockdown, there were 3,136 businesses started in April 2020 across New Zealand. This article outlines which industries these businesses were in and where in the country people were most likely to start businesses.
Lockdown entrepreneurs were people who may have lost their jobs, or just had more time to pursue an idea. Raising capital and making sales will be difficult for these new businesses, but nothing can stop a good idea.
And when faced with reduced other prospects, the opportunity cost of failure for budding entrepreneurs is less. This flexibility to adapt is something that can help drive New Zealand's economic recovery.
Compared to the 4,796 businesses started during April 2019, the 3,136 businesses started this April may not seem particularly high, but just think of the practical challenges of being entrepreneurial under lockdown. Not only was the formation of businesses limited by the inability to visit site and equipment, but many industries face an uncertain and lengthy path back to normal.
Which industries were new businesses in?
Given the recent practical challenges of starting a business, the industries with the most businesses started in April 2020 tended to focus on professional services. These types of businesses don't normally require a lot of capital and are a 'weightless' good where proximity to customers does not matter.
Nevertheless, there were also surprising volumes of retail and construction businesses started. Understandably with the demand outlook for tourism and entertainment being subdued, startups in the accommodation and hospitality realm were very limited.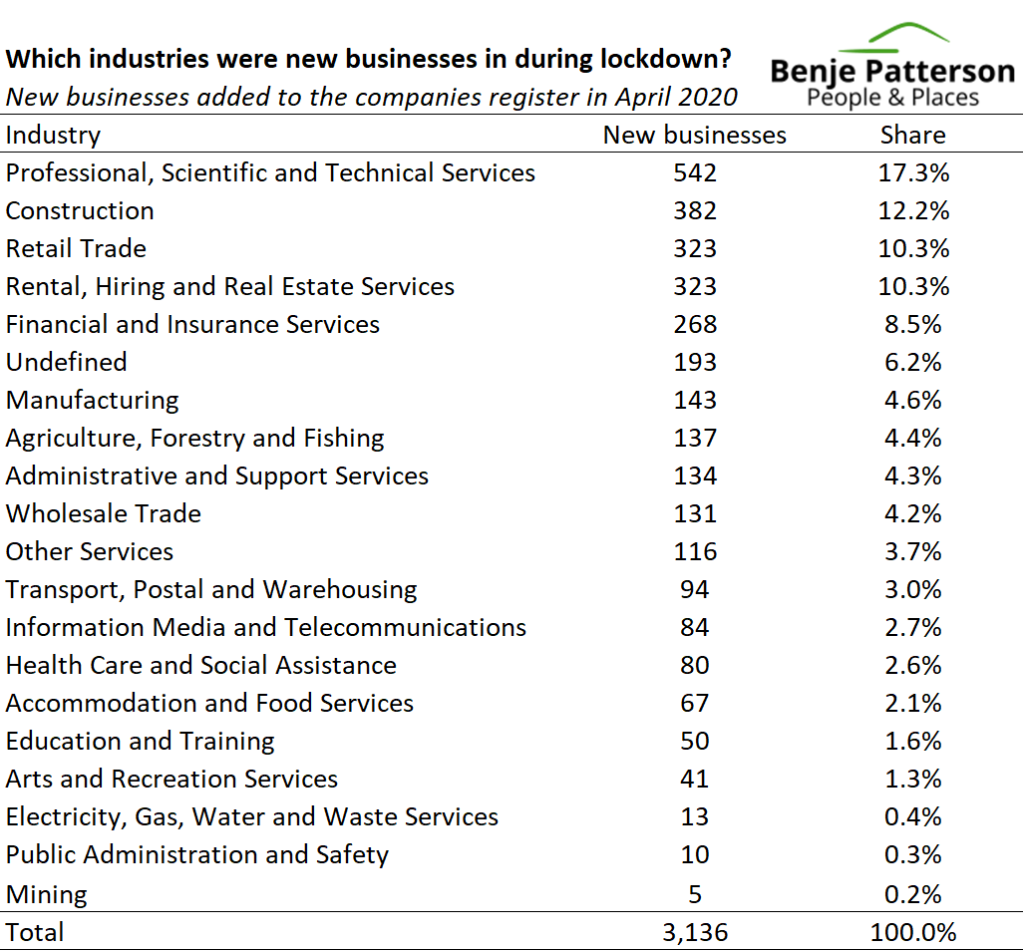 Which parts of New Zealand had the highest rates of lockdown business startups?
New businesses started during lockdown were spread throughout New Zealand. The extensive field testing of remote working during the lockdown period has given many the confidence to run a business from anywhere.
The following table ranks the territorial authorities in New Zealand that had the highest rates of new businesses started during April 2020 relative to the size of their existing business stock.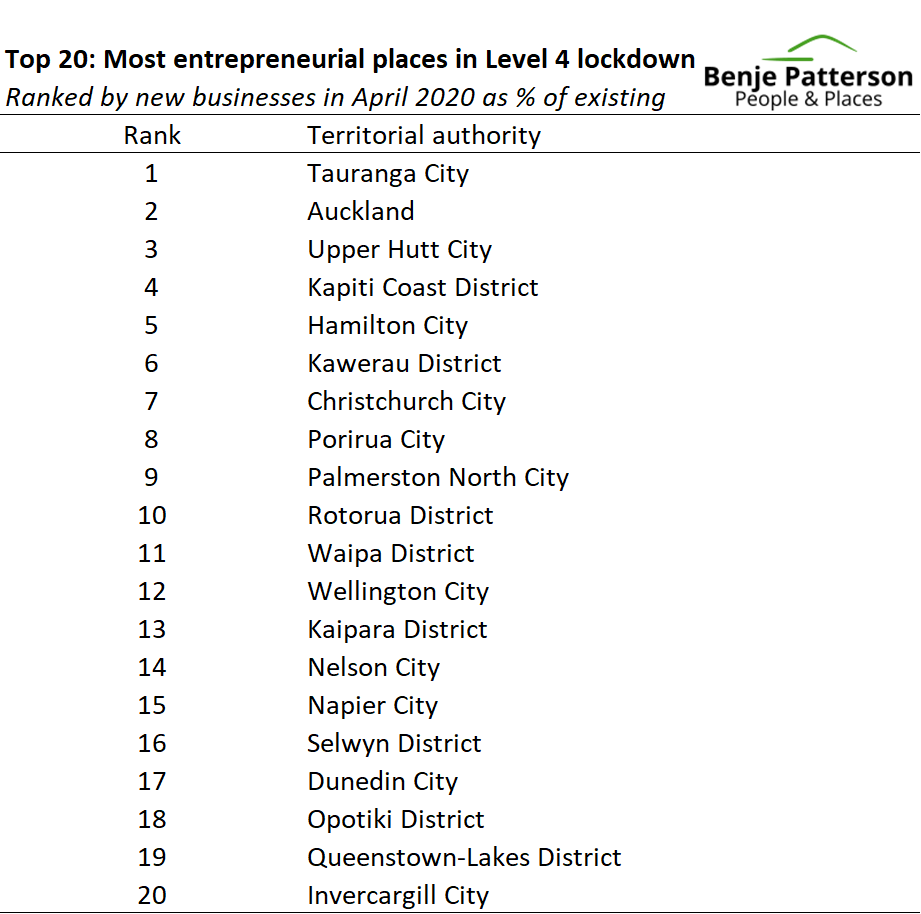 Many people started businesses in places that have been relatively unaffected economically by the crisis, such as areas with a large agricultural sector. But there were also surprising numbers of businesses started in places that are suffering the most, such as those with large tourism and hospitality sectors.
The road ahead
Over the months ahead, the composition of industries and places in which businesses start may change. As we move towards a new normal, opportunities will emerge unevenly across industries. Not only is the crisis affecting patterns of customer demand, but business practices and supply chains will look different to before the crisis.
This process of change is a friend of entrepreneurship, with new gaps that emerge driving potential business ideas.
However, change will also leave some existing businesses in a position they are unable to adapt from. As a result, although not yet apparent in the data, there will be an increasing number of business deaths that emerge during the rest of the year.
The lessons from the Global Financial Crisis showed that there is a lagged response for business deaths, as business owners survive as long as they can. But the GFC also showed that entrepreneurial spirit to give something new a go persisted throughout, with business startup rates remaining surprisingly high at all stages of the crisis.
Detailed monitoring of who is starting businesses in your area
To assist economic development practitioners monitor entrepreneurship during the recovery from COVID-19, I will be producing research reports to a regional, territorial authority and community level of detail.
The reports will be designed to give you a snapshot of entrepreneurship trends in your local area, compared to other places and history. The analysis will cover month-by-month rates of new business startups and emerging trends of business deaths.
These reports will also be paired with a behind-the-scenes database for your staff that lists details of the companies started to help you more effectively reach out to these new enterprises in your local area.
Please contact me if your organisation would like to find out more about purchasing a report for your local area.