Guest nights during February 2019 were down 0.4% from a year ago. The culprit was a 3.2% decline in international guest nights, which outweighed a 2.6% lift in domestic guest nights.
Statistics New Zealand were quick to pin the international guest nights fall on the earlier timing of Chinese New Year this year.
But there is something more at play than just holiday timing.
The whole of summer has been mediocre for the commercial accommodation sector.
International guest nights in each of December and January were also down on the year before.
Cumulatively across the three months to February, international guest nights fell 1.8% from a year ago.
Occupancy rates this summer were at their lowest level in three years.
Slower growth isn't the same as less visitors
The other reason Statistics New Zealand gave for commercial accommodation's woes was slower growth in international visitor arrivals.
But again this logic does not make sense.
Slower growth in visitor arrivals is not the same as less visitors.
It just means that there were only a handful of extra people who came to visit this summer compared to last.
To be precise, 1.35m visitors arrived in New Zealand during Summer 2018/19 compared to 1.32m in Summer 2017/18.
The tapering of visitor arrivals growth to a trickle should have merely begun capping growth in guest nights, not pulled them back sharply.
Visitors just want to sleep differently
What's really at play is a losing of market share.
Visitors are staying elsewhere.
And before you point the finger squarely at freedom-camping backpackers, think again.
Airbnb and other modes of private accommodation are where the answer lies.
Private accommodation's rise has been happening for years, but the commercial accommodation's falling market share has to date been masked by the relentless pace of overall growth in the tourism sector.
Now that tourism activity is plateauing, commercial accommodation's Achilles' heel has finally been exposed.
Ultimately, we are not in the death knell for hotels. But we are in a situation where they need to rethink their business model.
The peer-to-peer private accommodation movement is to hotels, what the online shopping revolution has been to bricks and mortar retailers.
I hate to say I told you so
Many visitors are demanding different experiences to what has always been.
Visitors are speaking with their wallets and are satisfied with what they are finding privately.
And the biggest irony for me is that the industry has misread its own tea leaves.
MBIE's International Visitor Experience report showed way back in 2017 that visitors were more satisfied with hosted accommodation and rented property than they were with hotels and motels.
Just check out this chart if you don't believe me.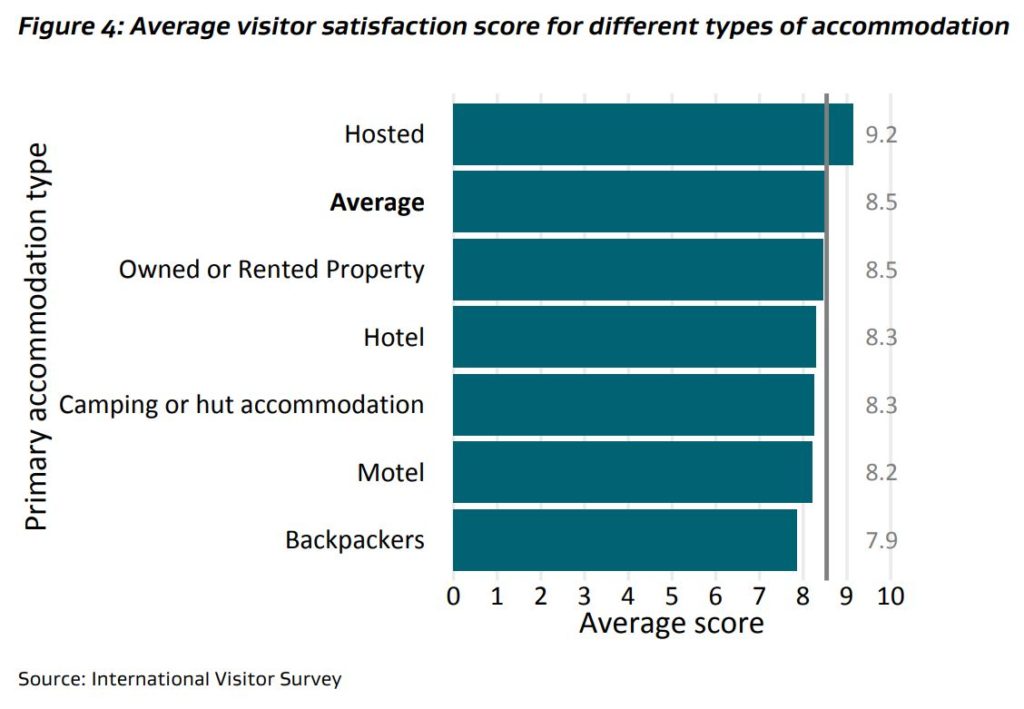 Last time I made this call, the industry shot me down.
I hate to say I told you so. But perhaps it is finally time for the tourism industry to take private accommodation seriously.
Get on the blower and extend that olive branch to the (not so) new kids on the block in the accommodation sector.