A potential New Zealand-Cook Islands travel bubble is a perpetual mirage on the horizon for kiwi travellers. The bubble would not just be a boon for kiwi sunseekers, but it could also be a form of 'soft aid' that is a saviour of the Cook Islands economy if it ever finds a way off the ground. This article considers the potential value of such a bubble.
How many kiwis visit the Cook Islands each year?
A key condition from the New Zealand government before allowing a travel bubble with the Cook Islands to go ahead will be that only New Zealand visitors are allowed into the Cook Islands. Until COVID-19 is brought under control in other jurisdictions, the New Zealand government will not want to take any chances.
The Cook Islands' government will be quick to embrace such a condition – as kiwis usually make up the lion's share of visitor arrivals to the Cook Islands anyway.
There were 110,607 New Zealand arrivals to the Cook Islands in the June 2019 year, according to data from the Cook Islands Ministry of Finance and Economic Management (MFEM). This number is likely to soar as kiwi travellers have no other overseas options for the time being.
Kiwi travellers represented two thirds of total inbound tourism into the Cook Islands last year. By comparison, the next highest contributor was Australia, with just 28,482 Australian arrivals to the Cook Islands, representing 17% of total arrivals.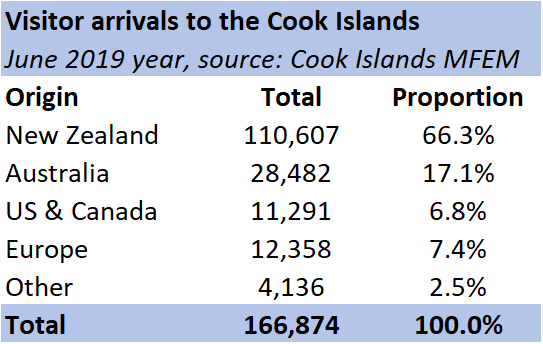 Looking at things in reverse, there are very few Cook Island travellers to New Zealand. Data from Statistics New Zealand showed that there were only 13,148 Cook Islanders who visited New Zealand in the June 2019 year – just 0.3% of all visitor arrivals.
How much do kiwis spend in the Cook Islands?
In total New Zealand travellers to the Cook Islands spent $201 million in the June 2019 year, well ahead of the $65 million spent by Australians. Kiwi travellers accounted for 60% of all international visitor spending in the Cook Islands.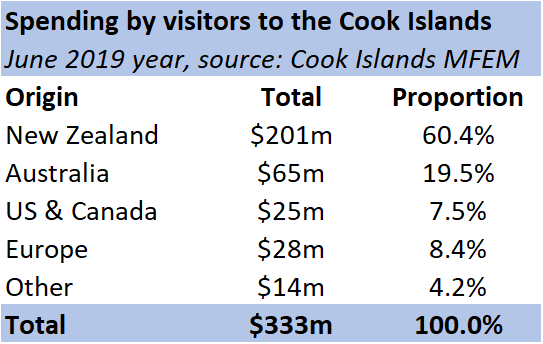 The share of spending by kiwi travellers (60%) was slightly below its share of visitor arrivals (66%) because of slightly more frugal spending patterns. Kiwi travellers spent an average of $406 per day, compared to $435 per day by visitors in general.
A form of 'soft aid'
COVID-19 has thrown the Cook Islands economy into a deep and dark recession. Border closures have disproportionately affected the Cook Islands economy.
International tourism is a 'must have' for the Cook Islands economy, not a 'nice to have' as is the case for New Zealand. Estimates from before COVID-19 show that spending by international visitors was equivalent to approximately 67% of Cook Islands' GDP. By comparison, international visitor spending was equivalent to about 6% of New Zealand's GDP.
A softening of the border restrictions between the two countries would provide much needed cash flow into the Cook Islands. With nowhere else in the world for kiwis to travel freely, it is likely that the $201 million annual spend by kiwis in the Cook Islands will grow significantly, perhaps even enough to make up for the absence of visitors from other countries.
Potential spending by kiwi sunseekers in the Cook Islands can be thought of as a form of 'soft aid'.
Without the tourism lifeline, the New Zealand government will almost certainly need to add significantly to the $17 million the Ministry of Foreign Affairs and Trade has budgeted for development assistance to the Cook Islands during the 2020/21 fiscal year.
Instead, an army of kiwi sunseekers can be sent to spend up large in Cook Island businesses. The money will flow directly into the tills of Cook Island businesses and into the pockets of wage earners. This 'soft aid' channel is a much more efficient solution than via the shackles of bureaucracy. The model is also a form of user pays, with those who can afford to holiday opening their wallets for the Cook Islands, rather than aid being diverted from the back pockets of all New Zealand taxpayers.
A version of this article also appeared on Stuff and was discussed in an interview with Kate Hawkesby on Newstalk ZB.