People are leaving Auckland in their droves and making a life for themselves in the regions. You have probably already heard this line bandied about by friends, but data recently released by Statistics New Zealand has confirmed that this is no urban myth.
Over the June 2021 year, Auckland lost a net 13,500 people to other parts of New Zealand, following net internal migration losses of 11,400 and 11,100 people in 2019 and 2020 respectively.
These results are consistent with a trend that I identified in research a couple of years ago where I looked at Auckland's emerging population exodus to the regions. My research found that the exodus of Aucklanders to the regions had accelerated from a net 2,727 people in 2014 to 12,942 people in 2017.
Where are people heading?
My earlier research highlighted that Aucklanders heading to Northland, Waikato, and the Bay of Plenty formed part of the story, with other key benefactors being places like Queenstown-Lakes and an emerging trend into Hawke's Bay and Nelson-Tasman.
Since Covid-19 hit, the trend of people moving into regions beyond the periphery of Auckland seems to have accelerated. The trend is also apparent around some of New Zealand's other major cities – including Christchurch, Wellington, Tauranga and Hamilton.
The following table shows the top 20 places in New Zealand for regional migration in the June 2021 year.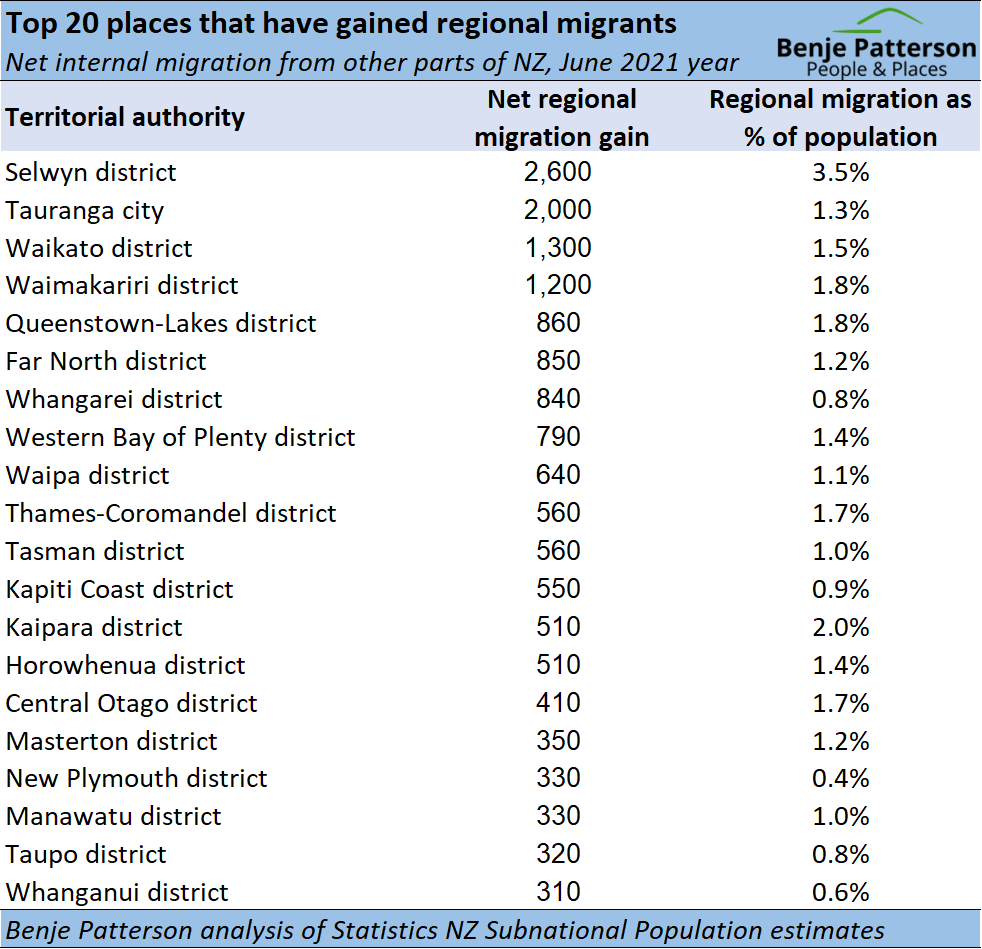 At the top of the list has been Selwyn, as Christchurch continues to sprawl out, with Waimakariri not far behind in fourth. Incredibly, the net gains of regional migrants in Selwyn have been the equivalent of 3.5% of Selwyn's population over the past year.
Sandwiched in the middle of Selwyn and Waimakariri are Tauranga (2nd) and Waikato district (3rd), which have long been popular destinations for migrants from Auckland. A range of other destinations in Bay of Plenty, Waikato, and Northland also rank highly, with many of these being smaller districts.
In fifth position as New Zealand's most popular attractor of regional migrants is Queenstown-Lakes, with regional migration accounting for 1.8% of Queenstown-Lakes' population over the past year. Nearby Central Otago also comes in not far behind, with a 410 person net gain of regional migrants being equivalent to 1.7% of the population.
What's driving these trends?
The exodus of people from Auckland and some of our other big cities into the regions is being driven by a combination of 'push', 'pull', and 'enabling' factors.
On the push side – a key factor is house prices. Rising unaffordability has hit all of New Zealand, but none more so than our biggest cities. The socio-economic consequence of these extreme house prices has been a pattern of migration out of the cities and into neighbouring regions and beyond. Prices are also rising in the regions, but are not yet out of reach in such a widespread fashion.
On the pull side – a key factor has been lifestyle. Covid-19 has been a wake-up call for many and given us time to reflect on what matters in life. A quieter life, with simple pleasures and a nourishing environment to raise children is clearly something that matters for many. The allure of the 'good life' pulls people into our regions.
But alone these push and pull factors are not enough – there are other practicalities which are necessary to enable people to actually carve out a new life in our regions. At the top of the list of these enabling factors is employment.
Over the past year, the employment pendulum has clearly swung in the regions' favour. Not only has job growth been strongest in regional New Zealand off the back of good returns in the primary sector, but the extensive field testing of working from home during lockdowns has finally broken conservative attitudes to remote working. The reality is that many professional roles can for the large part be performed anywhere and New Zealand's extensive regional flight network means that it is not too challenging to periodically pop up to head office or fly for some face-to-face time with a client.
Even as life begins to slowly get back to normal as we put the pandemic behind us, it is hard to see the rekindled love affair with regional New Zealand going away anytime soon. The legacy of Covid may be some permanent changes to the way we work, what we value in life, and where we choose to live.