GOOD NEWS STORY: New Zealand's goods trade surplus is sitting at record levels. What's more, the expansion to the trade surplus over recent months has been more than enough to offset the gap from reduced international visitor spending.
Over the 5.5 months from 1 February to 15 July, the goods trade surplus was $4.4bn. The recent surplus was $3.3bn greater than the $1.1bn surplus earnt over the same period a year ago.

The world still has to eat
The food commodities which we export still have buoyant demand conditions globally, despite COVID-19 affecting demand for consumer products. The reality is the world still has to eat, which has pushed up export earnings for fruit, meat, and dairy. Seafood has suffered due to reduced restaurant trade. At the same time, cheaper petrol and less time in the shops has kept the cost of New Zealand's imports at bay.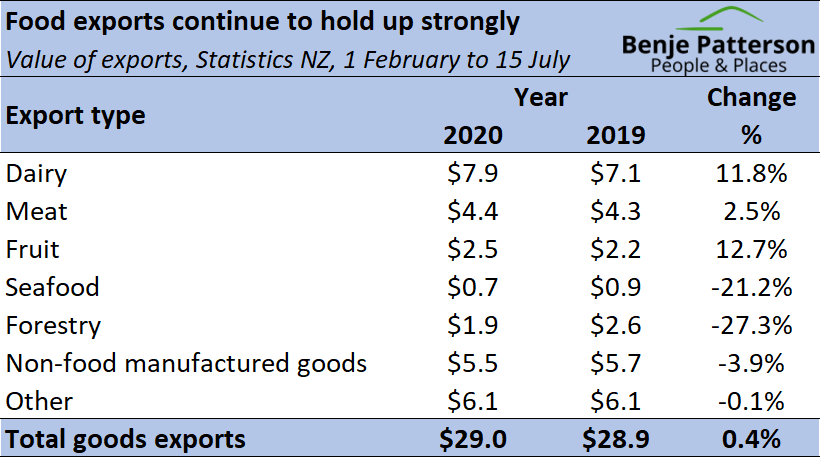 Trade surplus makes up for all international visitor spending losses
Incredibly the additional goods trade surplus over recent months has been sufficient to offset the reduction in spending by international visitors since 1 February. Between 1 February and 31 May, there was $1.8bn less spent in New Zealand by international visitors than a year ago. If you extrapolate recent trends into June and July, the total shortfall in international visitor spending is likely to approach about $2.8bn by late July, which is about $500m less than the recent growth in the goods trade surplus.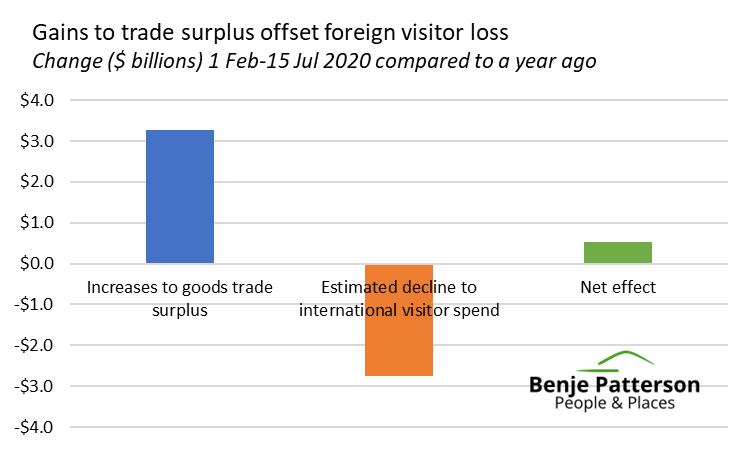 In short, thank a farmer and be appreciative for our nimble food processing and logistics enterprises, which have ensured our food exports got to market. COVID-19 would have affected the New Zealand economy a lot more severely already had it not been for activity in our provincial hinterland offsetting hospitality losses elsewhere.