The housing market has remained surprisingly resilient across New Zealand over recent months, confounding expectations of widespread price falls following the COVID-19 lockdown.
Low interest rates and a sugar rush of economic activity during the immediate post-lockdown period have supported demand from people looking to purchase a home. Many existing homeowners have also been protected from needing to sell under duress by wage subsidies and mortgage holidays. There may be softness to come, but for now pricing has remained high.
Crises can increase gaps between the haves and have nots
This tightness in the housing market has continued to put pressure on renters in many parts of the country. Over the three months to August, rents nationwide climbed 2.9% compared to a year ago. A tough situation for renters when we know that incomes have been squeezed. Median weekly incomes during the June quarter alone were impaired by 7.6% from last year's level.
The unfortunate reality is that crises such as COVID-19 exacerbate existing vulnerabilities, inequalities and distributional distortions. The gaps between the haves and have nots often get more pronounced as ownership of capital and property can become more concentrated. In New Zealand's case, the wealth gap between renters and homeowners has been stretched further.
Provincial centres had fastest rent increases
The geographical distribution of rent increases has been uneven across New Zealand.
The fastest rent increases have been in the provinces, in places that have a relatively small rental pool that can quite quickly get squeezed by any growth pressures.  Many of these provincial centres have economies that rely heavily on agriculture, which have been relatively unaffected by the crisis, while other places offer a good lifestyle proposition. The extensive field testing of remote working during the lockdown has taught people that working from the regions is an option.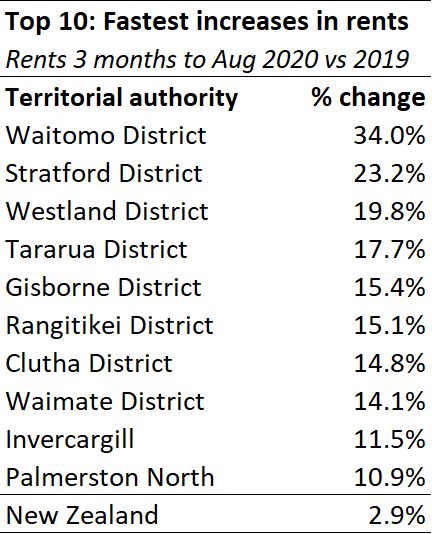 Rents did fall in some places
Despite the large increases to rents in some places, there were other areas where rents fell. Most rental declines were very small. However, there were three areas with particularly steep declines: Queenstown-Lakes, Mackenzie, and Ruapehu.
These areas have been disproportionately affected by the crisis because they have large international tourism sectors. The removal of international tourism from these areas' economies has reduced employment opportunities, which has caused demand for rentals to decline. At the same time, rental supply has lifted as many homeowners, who used to rent their properties out for higher rates on private accommodation platforms, such as Airbnb, have returned their properties to the general rental pool.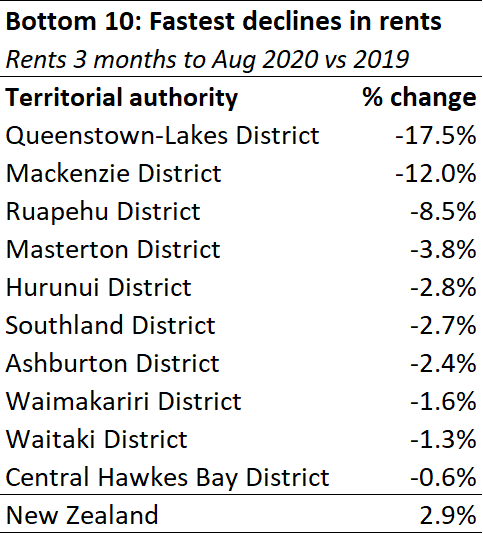 These declining yields are good for wannabe renters, but tough for property owners. A silver lining in the case of Queenstown may be if the softening of rental prices, and a similar trend for commercial leases, encourages some businesses to set up in the region. If these new businesses are in different sectors, particularly in professional services, technology, and finance, where distance to market does not matter, they could over the long-term enhance economic diversification and improve resilience to future crises.