Everyone keeps telling me we have a tight labour market. But that is not 100% true.
The unemployment rate is low, businesses are reporting trouble finding workers, but at the same time we have more people who are underemployed. In short, there is actually quite a lot of slack in the labour market of people wanting to work more, however, for many reasons, this untapped 'potential' workforce can't find its way in!
It was a pleasure talking to Catherine Harris of Stuff about some of these issues, how entrepreneurship might be playing a role, and what solving the labour market could mean for mortgage rates.
Catherine's full article is available here, while excerpts from my interview with Catherine are found below:
"If people say the labour market has become crazily tighter, I'd say back up the bus," independent economist Benje Patterson​ of People & Places, said. "Employers are having a challenge finding the right workers but there are people who could potentially come into the workforce and we need to understand what these impediments are, so we can design policies to address the disconnect."
…
According to the Companies Office, 16,888 new businesses registered in the March quarter, up from 12,486 at the same time in March 2020. The rise in entrepreneurship over Covid-19 has been "quite incredible to see", Patterson said.
It was not just an urban phenomenon, but across the country, and in a variety of industries. Some were in areas of demand like agriculture or construction, or in professional services where location was less important. But surprisingly, a number of new businesses were in hospitality, in areas that did not rely on tourism.
"What this really showed was that people were making the most of opportunities that have arisen. Change is a friend for a budding entrepreneur," Patterson said. "The other thing is the opportunity cost of failing. When you've either lost your job or on reduced hours, the opportunity cost of failing is a lot less than it would have been before. So you may as well give that idea a go that's been floating around in your head. What have you got to lose?"
For those not ready to start their own business, Patterson said it was also important to drill down into why so many people wanted to work more hours but were not getting them. It could be a skills mismatch, it could be age or gender, or it could be people with deep roots in an area who felt unable to move, he said.
Action taken to fix under-utilised workers could also have wider benefits, he said. The Reserve Bank is preparing to raise interest rates next year to ward off inflation, and if inflationary pressures such as labour shortages ease, the rise in interest rates might be pushed further out.
As further context to the business starts data quoted above, see the following chart.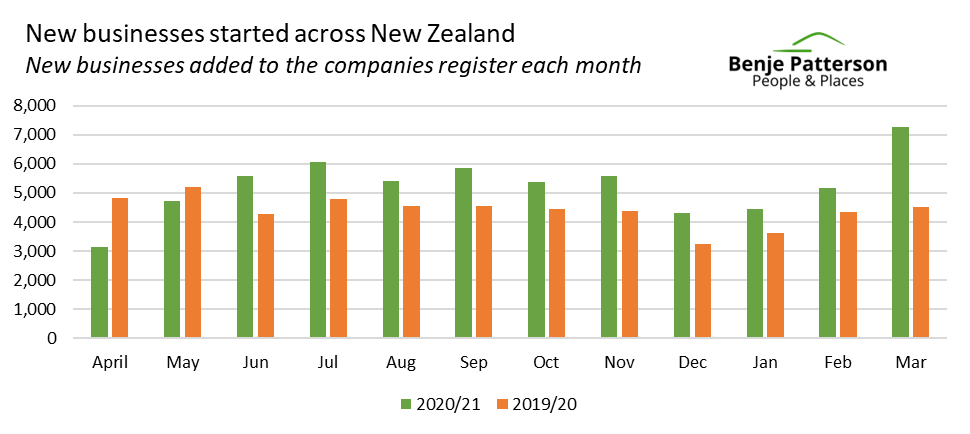 If you are interested about the recent role of entrepreneurship in you district or region, please get in touch.