It is one year since New Zealand's initial Covid-19 lockdown, and the property market has confounded expectations since then. When we first locked down, panic set in and it was expected that house prices would fall because of mass job losses and an ensuing spike in forced property sales. But as we know this never eventuated. In the end a combination of mortgage holidays and wage subsidies ensured no such sell-off happened, and instead owner-occupiers and investors alike gorged themselves on cheap interest rates. The result of this buying pressure was a record surge in house prices in almost every corner of New Zealand.
Against this backdrop, the situation has got tough for many renters. Across New Zealand, average rents over the three months to February 2021 were up 6.5% from a year ago, according to bond data from the Ministry of Business, Innovation and Employment.
Covid-19 has exacerbated existing inequalities and the wealth gap between renters and homeowners has been stretched further. Not only have rents soared – but the deposit threshold which renters need to save to access a mortgage has slipped out of reach for more households.
Where have rents increased the fastest?
The fastest rent increases have all been in the provinces and the pace of this growth has also been accelerating.
Many of these provincial centres are in places that offer good lifestyle propositions and are often conveniently located close to nearby cities where rents were relatively more expensive to begin with. In short, high rents in urban areas has squeezed people into the provinces.
Some of these provincial centres have economies that rely heavily on agriculture, which have been relatively unaffected by the crisis. The extensive field testing of remote working during the lockdown has also taught people that working from the regions is an option.
The following table highlights the 10 territorial authorities with the fastest increases in rents. Interestingly, Ruapehu tops the list of the fastest rental increases. This result is a complete turnaround from the early stages of the Covid-19 pandemic when the closing of borders pushed down rents in Ruapehu as many Airbnbs went back into the rental pool.
Where have they gone down?
Even though rents are increasing in around 80% of New Zealand's 67 territorial authorities, there remain a few places where rents have fallen in the wake of Covid-19.
Most rental declines were very small. However, there were three areas with particularly steep declines: Queenstown-Lakes, Mackenzie, and Westland. These three areas have been disproportionately affected by the crisis because they had large international tourism sectors. The removal of international tourism from these areas' economies has reduced employment opportunities, which has caused demand for rentals to decline. At the same time, rental supply has lifted as many homeowners, who used to rent their properties out for higher rates on private accommodation platforms, such as Airbnb, have returned their properties to the general rental pool.
Curiously both Porirua and Gisborne have also had moderate declines in rental prices. Neither of these results had been anticipated, given that both areas have displayed sharp increases in house prices, high levels of population growth, and faster growth in jobs than national averages. This result is likely to be a temporary quirk and rents will begin rising again in these areas in the coming months.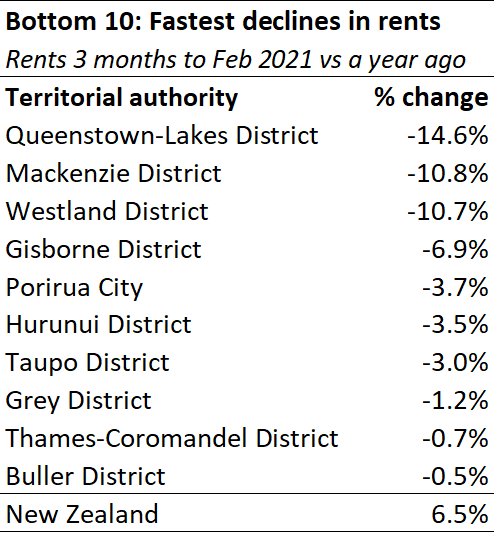 What about new investor regulations?
Many people have asked for my immediate take on how the new investor regulations will affect renters in the regions. But unfortunately, as I survey the months ahead there is little prospect of any immediate relief for renters.
Many of the government's recently released housing policies will eventually reduce housing demand pressures and lift supply if they are successful. However, the results of these policies will take time to play out.
In the meantime, there may well be increased pressure for landlords to push up rents. To illustrate this point, take for example a million-dollar property, with a $600,000 mortgage. Under the new regulations this property will lose $6,000 of tax deductibility for landlords with a 33% marginal tax rate. Some landlords will try and pass on as much of this cost as they can to their tenants. But it is not a fait accompli they will succeed – that will ultimately depend on the balance between supply and demand in their area. In places where the rental market is tight, landlords will have more success at passing on some of the additional cost. However, in places where there is a more plentiful rental supply relative to demand, like some of the tourist areas, landlords will be less successful in passing on their costs.
The government has also already signalled they may seek to limit such behaviour if they see it occurring. The trouble is that will only occur after the fact. So unfortunately in places where rental pressures are toughest, renters shouldn't expect any immediate respite.