Queenstown-Lakes' economy is one of the most heavily affected by the COVID-19 pandemic, given the area's high exposure to international tourism. The crisis will challenge the survival of many existing businesses, but the process of change will create opportunities for many new entrepreneurs. I recently published a report that analyses emerging trends in business births and deaths in Queenstown immediately before and during the COVID-19 pandemic.
The full report is available here.
Key learnings
Growth in the stock of businesses is the net result of the appearance (birth) and disappearance (death) of businesses over a given year. This process is often referred to as "creative destruction".
The GFC showed that entrepreneurship can flourish in the unlikeliest of circumstances. Following the GFC, business deaths rose with a lagged effect, while even though business births were lower, they remained surprisingly high given a tough business environment.
Even under COVID-19 lockdown, there were still 39 businesses started in Queenstown-Lakes during April 2020, compared to 77 a year ago.
As the country moved down the COVID-19 alert levels, the number of new businesses started in Queenstown-Lakes during May 2020 was 85.
The rate of business births in Queenstown-Lakes District sat at a similar level to New Zealand from January to March, but pushed above the rest of the country in May.
There were significant volumes of professional, financial and other services businesses started. These types of businesses can easily be started despite practical challenges surrounding the COVID-19 pandemic. These types of businesses lend themselves to remote working arrangements.
Understandably with the demand outlook for tourism and entertainment being subdued, startups in the transport and arts and recreational services realm were very limited.
Business deaths in Queenstown-Lakes sat at 10 in January, but peaked at 31 in March. As the country went into lockdown, business deaths declined to 17 in April and 14 in May.
The low level of business deaths in April and May is unlikely to reflect the true extent of challenges in the business environment. There is often a lag of several months between when a business experiences hardship and when the decision to shut down is taken and actioned.
The highest number of business closures were in industries related to the tourism and construction and property sectors.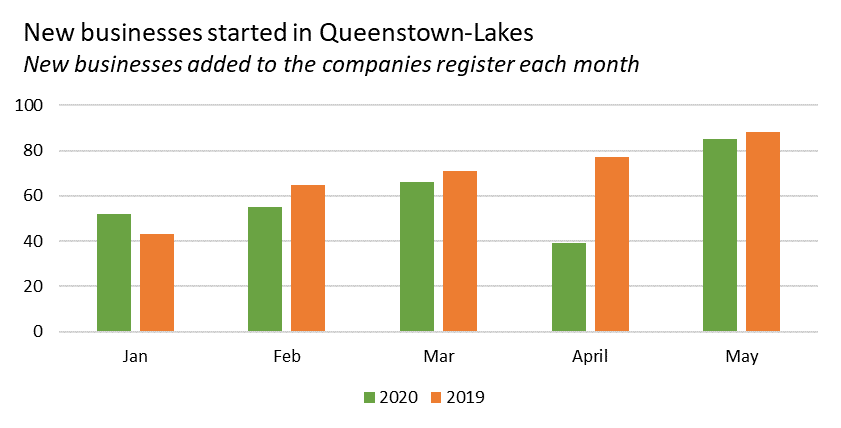 The road ahead
Over the months ahead, the composition of industries and places in which businesses start may change. As we move towards a new normal, opportunities will emerge unevenly across industries. Not only is the crisis affecting patterns of customer demand, but business practices and supply chains will look different to before the crisis.
This process of change is a friend of entrepreneurship, with new gaps that emerge driving potential business ideas.
However, change will also leave some existing businesses in a position they are unable to adapt from. As a result, although not yet apparent in the data, there will be an increasing number of business deaths that emerge during the rest of the year.
The lessons from the Global Financial Crisis showed that there is a lagged response for business deaths, as business owners survive as long as they can. But the GFC also showed that entrepreneurial spirit to give something new a go persisted throughout, with business startup rates remaining surprisingly high at all stages of the crisis. When faced with reduced other prospects, the opportunity cost of failure for budding entrepreneurs is less. This flexibility to adapt is something that can help drive New Zealand's economic recovery.
The full report is available here. Please contact me if you are interested in similar reporting for your local area.